Fill stockings to the brim with handmade artisan gifts
Nov 2, 2023, 19:00 PM
At the Southern Christmas Show, shopping for the perfect gift for everyone on your list can be as simple as pouring a cup of peppermint hot chocolate. Our guests have the advantage of discovering hundreds of vendors – with more than a third of them selling one-of-a-kind, handcrafted treasures – all under one roof! With so many booths to visit and unique items to consider, we know you'll find something to make everyone on your list merry – even the Scrooges! Here are a few stocking stuffer ideas we love from this year's show:

1. For the Sentimental Grandparent: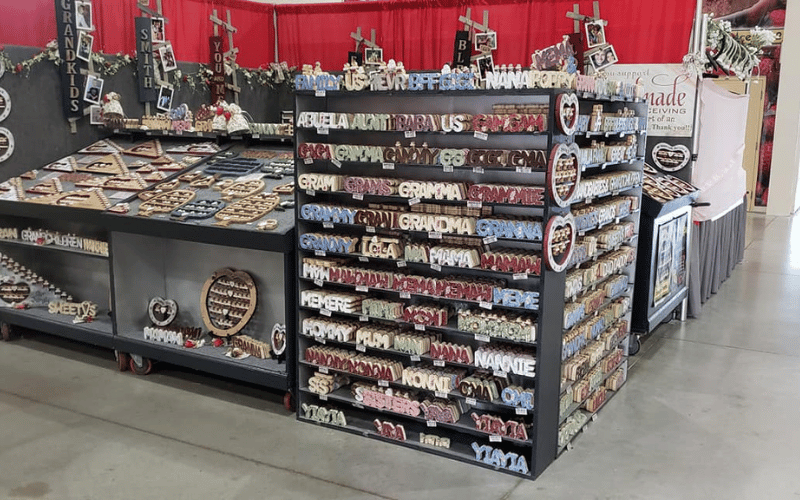 Choose a handmade, wooden family tree plaque – with accompanying figures to represent people – from Personalized Memories at Booth 110. The plaques come in many different sizes and several styles including hearts, trees, houses and stairsteps. Both the plaques and the figurines are intricately hand painted by owner Becky True, while her husband Dan carves all the wood himself. You'll also find "grandma" and "grandpa" plaques in 100 variations to customize this gift with the name your loved one enjoys being called such as Pop Pop or Nana. Grandparents will adore these personalized presents and may even get a little teary-eyed to see all their relatives' names in one place. Visitors can put in their request for a plaque at the show and collect their gift in an hour or less.
2. For the Jewelry Lover with a Big Heart: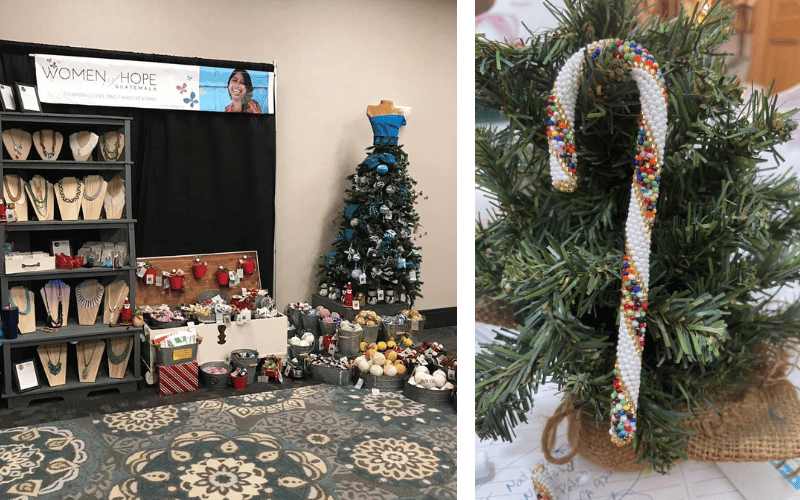 The bright, bold jewelry items at Women of Hope Guatemala's Booth 119 make the ideal addition to any fashionista's wardrobe. These handcrafted beaded bracelets, earrings and necklaces made by artisans in the Lake Atitlán region of Guatemala are sure to become gorgeous family heirlooms. The nonprofit's Founder and Director Tina Wade Osuna began her organization in 2012 to help adults who find themselves undereducated and in a cycle of poverty, especially indigenous women, by providing them with consistent work and fair wages. To celebrate her first year the show, Osuna is offering a 30 percent discount on all jewelry. Use code SCS30 at checkout.
3. For the One in Boots Who's Always Cold: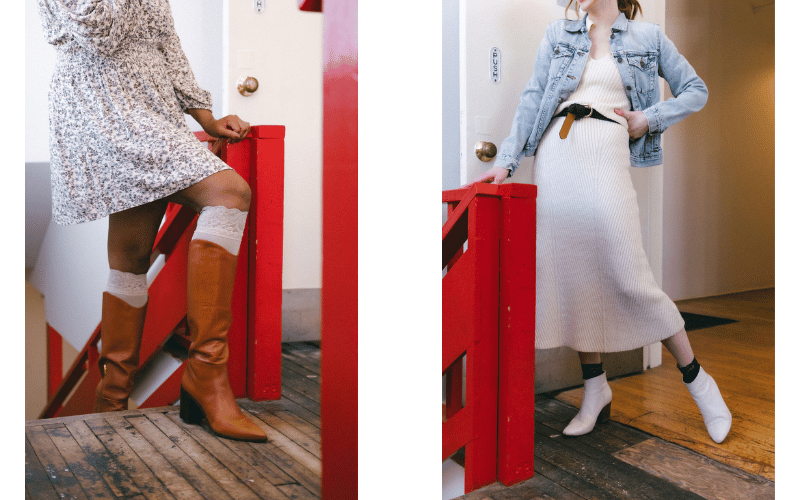 Head to Booth 2403 to purchase an innovative pair of Bootights, an item crafted by hand-sewing cushioned performance socks to the bottom of premium tights. As an added bonus, the majority of Bootights' products are knit and sewn in North Carolina. The brand has a loyal fan base of customers who relish keeping their toes cozy on cold winter days, while also taking advantage of the product's compression arch support, ventilation, increased durability and lack of slipping inside boots. In addition to tights, Bootights offers a full line of comfortable, stylish socks in over-the-knee, knee-high, boot, travel, trouser and ankle varieties. Find a fun pair of socks at the show with a chic pattern, eye-catching rhinestone bling or even pretty lace cuffs!

4. For the Crafty Parent: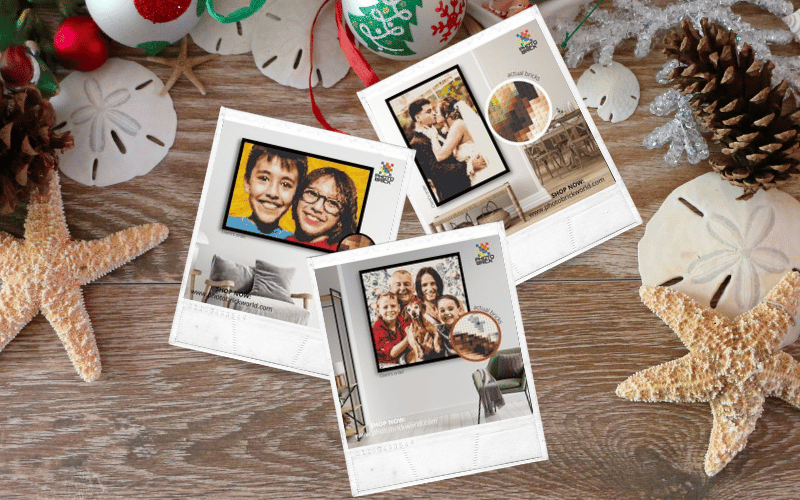 There's holiday magic happening at PhotoBrick's show show Booth 2605. Owners Mike and Trina Ware can take any photo off of a person's phone and turn it into a Lego-style kit. A computer program is used to enhance a photo as much or as little as a customer requests, including adding fresh backgrounds to them. The process unfolds in about 20 minutes, and customers walk away with a beautifully boxed, handcrafted kit containing all base plates, colorful pieces and easy-to-follow, color-coded instructions similar to a paint-by-numbers craft. The instructions are made so multiple people can work on the artwork at the same time. So, this gift is a perfect project for families to tackle in the living room in front of a blazing fire during the Christmas season!

5. For the Woman on a Spiritual Journey: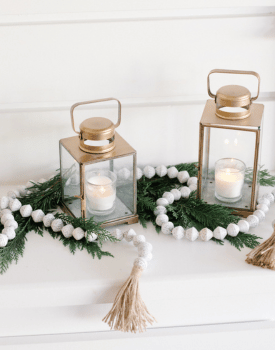 Help her decorate her home for the holidays while weaving her Christian faith into the process with a Hidden Things Garland from Proverbs 31 Ministries' Shop 15. These garlands are handcrafted by women in Addis Adaba, Ethiopia, from recycled pages of the ministry's "Great & Hidden Things Jeremiah Experience Guide." This gift option comes through a partnership with the Adera Foundation, which provides jobs and stability for Ethiopian mothers who are seeking the best for themselves and their children in unstable political conditions.
6. For the Artistic Sort:
Your friend who is always enrolling in painting classes or throwing pottery will adore a Fabergé-style decorated egg from Eggstra Eggstra's Booth 905. Owner Jennifer Stevens uses shells from small quail eggs to large ostrich eggs and everything in between for her work, purchasing infertile eggs from ranchers across the country. After marking the eggs with a special marker, she cuts them using a high-powered air drill. Then she cleans and sanitizes them before the decorating, painting and embellishing process begins. Each egg is custom designed and handcrafted by Stevens personally, and she has 30 years of experience in the craft taught to her by her mother and grandmother. She builds eggs on stands, egg jewelry boxes, hot air balloon eggs, mythical creatures shaped around eggs, Christmas ornaments to hang on the tree and more!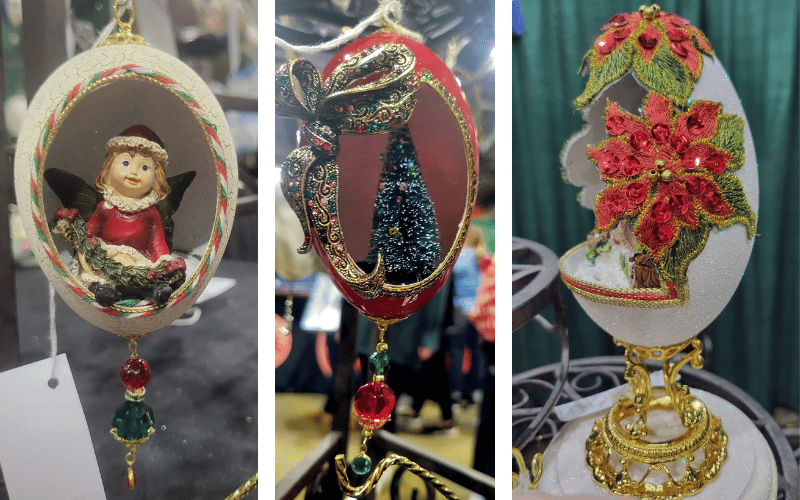 Don't forget to visit our Virtual Vendor List to find gifts from your favorite artisans all year long. We look forward to welcoming you to the Southern Christmas Show soon!