Get Creative in the Kitchen this Holiday Season
Nov 5, 2018, 18:26 PM
Calling all cooks and bakers! The holiday season is the perfect time to gather loved ones around the table and dig in to the distinctive, hearty meals that we all dream about all year long. We know it's also a higher-stress time as you carefully plan out your menus, search for particular ingredients scattered at various grocery stores and then spend hours in warm kitchens crafting your concoctions!
This year we wanted to point you toward a few of our exhibitors who have done the hard part for you and provided many of their favorite recipes. Here are a few of our favorites!
1. Eggnog Frappe from Nectar of the Vine – Booth 2340
This beloved holiday favorite can now be easily prepared as a frozen frappé! The eggnog frappé mix is made to be blended with rum, not wine, as well as water and milk. Consider adding a sprinkle of cinnamon, nutmeg, or a cinnamon stick as a garnish before serving.
Freezer Mixing Instructions:
In a 2-quart Pitcher, mix:
• 1 cup of rum
• 1 cup milk
• 4 cups water
• 1 10oz. packet of Frappé mix
Stir well and freeze for 3-4 hours or longer.
 Thaw for 20-30 minutes or until desired consistency.
 Mix with a wire whisk.
Blended Version Instructions:
• 1 cup of rum
• 1 cup milk
• 1 10oz. packet of Frappé mix
Add and blend 2 cups of ice cubes at a time, until you have added a total of 6 cups of ice cubes.
Mix with a wire whisk. Frappé can also be poured and stored in a gallon-size freezer bag!
2. Bow Tie Pasta with Winter Squash and Walnuts from Grapes & Olives on Tap – Booth 2319
Ingredients:
• 1 lb. Winter Squash (e.g., acorn, butternut), peeled, seeded and cubed

• 1 lb. Bow Tie Pasta

• 1 Tbsp. of Grapes & Olives On Tap's Garlic Mushroom Olive Oil

• 2 Cloves Garlic, minced

• 3 Tbsp. Fresh Parsley, minced

• 2 Tbsp. Walnuts, chopped

• ¼ cup Parmesan Cheese, freshly grated
Instructions

Cook squash in boiling, salted water for approximately 10 minutes or until tender. Drain and mash. Meanwhile, cook pasta according to package directions; drain. Heat Garlic Mushroom Olive Oil in skillet over medium heat. Add garlic and sauté for 30 seconds. Add mashed squash and parsley, with salt and pepper to taste, and sauté for 1-2 minutes or until squash is slightly browned. Toss the drained pasta with squash mixture. Top with walnuts and parmesan cheese and serve.
3. Susan's Cheese Log from Willie's Hog Dust – Booth 2045
Ingredients and Instructions:
Take two 8-ounce packages of cream cheese and let them soften. Stir in one 4-ounce can of chopped green chilies, including juices. Shape into a log and refrigerate. Right before serving, when the cream cheese has firmed, roll the log heavily in Willie's Hog Dust and serve with tortilla chips.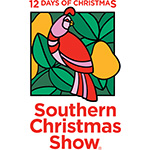 NOVEMBER 8-18, 2018.
THE PARK EXPO & CONFERENCE CENTER