Simple Dessert: Dump Cake Cobbler
Jul 11, 2018, 13:40 PM
You're on summer break. Make them think you slaved all day making a cobbler. Five minutes prep, and you can indulge in a juicy book while it cooks - that's what we call a win, win.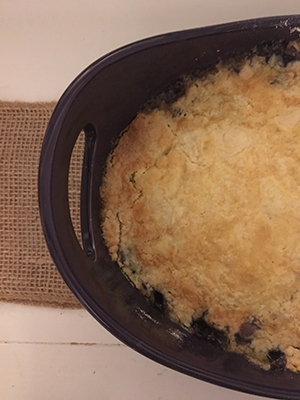 Ingredients
• 1 20oz can crushed pineapple
• 1 8oz bag shredded coconut
• 1 package of yellow cake mix
• ½ lb butter
• 1 can of pie filling (our family favorite is blueberry!)
Directions
Step 1: Preheat oven to 350 degrees.
Step 2: Grease 9x15 pan lightly with butter. Dump pineapple, then coconut, then pie filling. Do not mix together, keep in separate layers.
Step 3: Dump cake mix and smooth over surface. Cut butter into squares and cover cake mixture with butter.
Step 4: Cook for 45 minutes. Serve with a scoop of your favorite ice cream and enjoy!
We love desserts that come together in minutes! Wow family and friends without the hassle of a souffle. This sweet cobbler is the perfect addition to your next meal. Bon appetit!