'Twas the Night Before the Southern Christmas Show
To experience all the joy of the Southern Christmas Show before it opens to the public, join us for Preview Night on Wednesday, Nov. 8 from 5-9 p.m. Enjoy pre-access to the entire show, desserts, free parking, and interact with your favorite WBTV personalities while supporting an amazing organization. All proceeds from the evening go to Toys for Tots. To get you in the spirit, we prepared a Preview Night poem!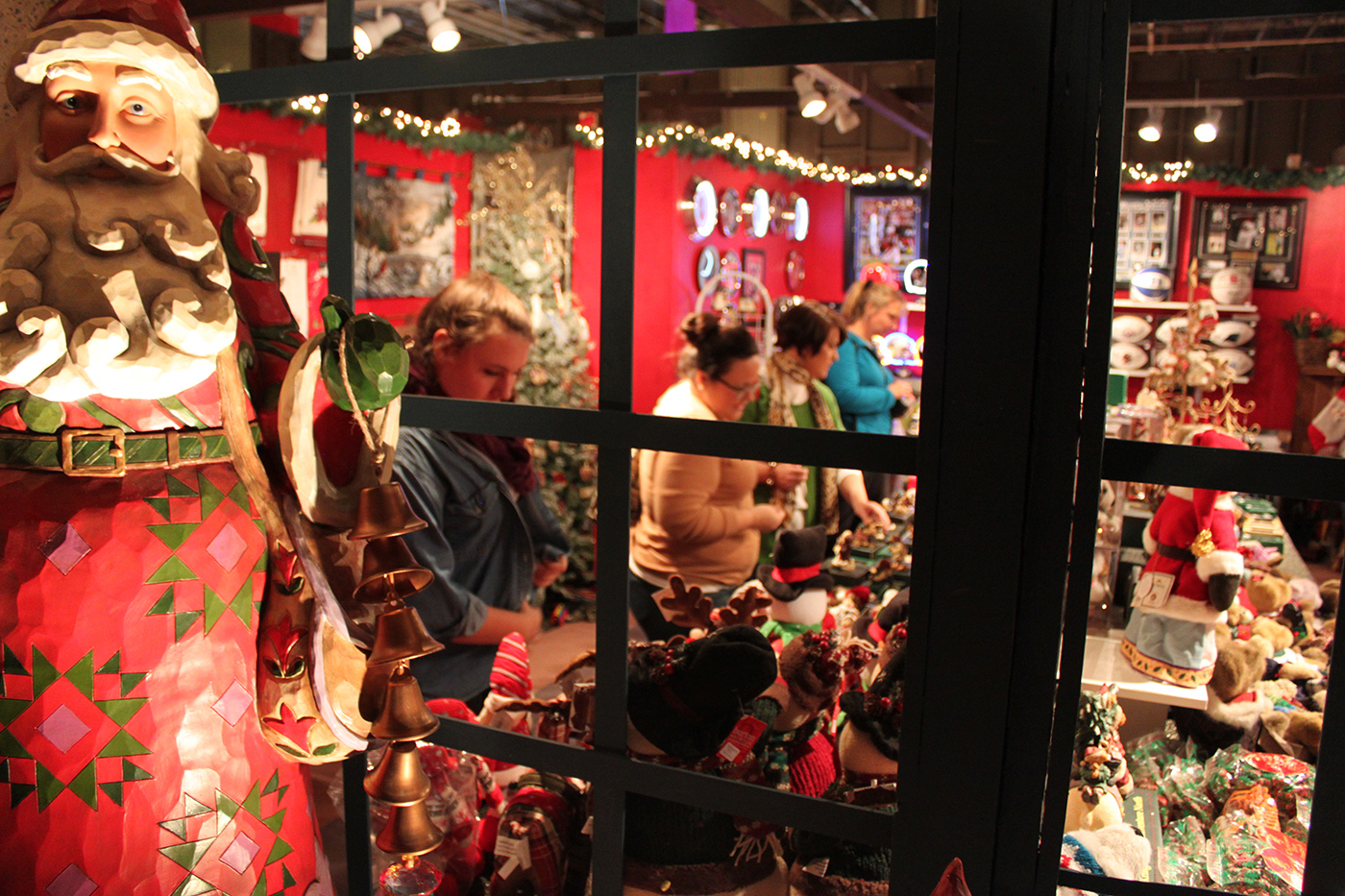 'Twas the night before the Southern Christmas Show, when all through the hall,
Every guest was sipping wine, nibbling on apps at nightfall.
The lights were hung through the hall with care,
In knowing that Christmas soon would be there.

All were shopping for sparkly ornaments and red sleds,
While visions of Christmas morn danced in their heads.
A kerchief for mamma, and for dad, a cap,
And for dear brother, how 'bout a craft beer map?

When up on the stage there arose such a clatter,
I hustled through the aisles to see what was the matter.
Away to the stage I flew like a flash,
Saying I'll be back for my gifts, I'll even pay cash.
The string lights above the trees and white snow,
Gave the luster of silver and gold to the gifts below.
When, what to my wondering eyes should appear,
But a cheerful noise, and eight carolers, so dear.

With a little conductor, so lively and quick,
It seemed like he was bouncing up and down on a pogo stick.
More joyful than angles their voices they rang,
And they crooned, and they belted, and were such a merry gang!
"Deck the halls with boughs of holly,
Fa la la la la la la la!
'Tis the season to be jolly,
Fa la la la la la la la!"
On up to the roof-top their notes they flew,
With Oh Holy Night, and Frosty the Snowman too.
And then, in a twinkling, I remembered my gifts,
The ones I picked for everyone here in a jiff.
As they finished the song, and I was turning around,
I spotted the model trains set up like a miniature boom town.
The mini-conductor was spot on, from his head to his foot,
And the hopper cars all tarnished with ashes and soot.
To my grandfather's own trains, I had a flashback,
His eyes narrow, his hands working hard on a fresh part of track.
My eyes-how they twinkled! My heart how merry!
I knew this Christmas must be delivered topped with a cherry!
Preview Night would help me tie it up with a bow,
So, I'd have plenty of time to sled with my kids in the snow.
Goodies galore to delight any sweet tooth,
Can be found all through the show, at booth after booth.
I've got candy apple cotton candy for sweet little Kelly,
And for Aunt Jane a few jars of homemade jelly!
And for those elves oh so hard to buy for on my list,
I'm sure I'll find perfect gifts here in my midst!
To the jewelry, silver and gold, I think I'll head,
Find something only fitting for the lovely woman I wed.
After placing my custom orders, they went straight to work,
On Christmas, I knew everyone would just go berserk.
Who knew all this great shopping was right under my nose,
I immediately decided I must come back to next year's show!
If you learned anything from me, get your tickets [link tickets] today,
Gather the whole family and pack them into your sleigh.
After the show you'll exclaim with all of your might,
"Happy Christmas to all, and to all a good-night!"
Tickets for Preview Night can be purchased here.
$19 Advance Adult Online Admission | $24 Box Office Adult Admission
All proceeds go to: Toys for Tots
The Southern Christmas Show is on from November 9th-19th, with Preivew Night on the 8th. There will be more than 450 Merchants ready to help you get into the holiday spirit! Get your tickets NOW!

PARK EXPO AND CONFERENCE CENTER
NOVEMBER 9-19, 2017.
Nov 7, 2017, 12:59 PM